Climate Ambassador Bram Bregman:
'WUR deserves a place at the negotiating table'
Wageningen

Climate Solutions
Photography: Wageningen University & Research
BY Hanny Roskamp

- September 2019
---
The Netherlands can look forward to a fine, green future if leaders act boldly in time. But perhaps a disaster needs to happen before they are prepared to do this. Or the WUR creates an attractive future perspective. The radical vision of Bram Bregman, Wageningen University & Research's (WUR) new climate strategist.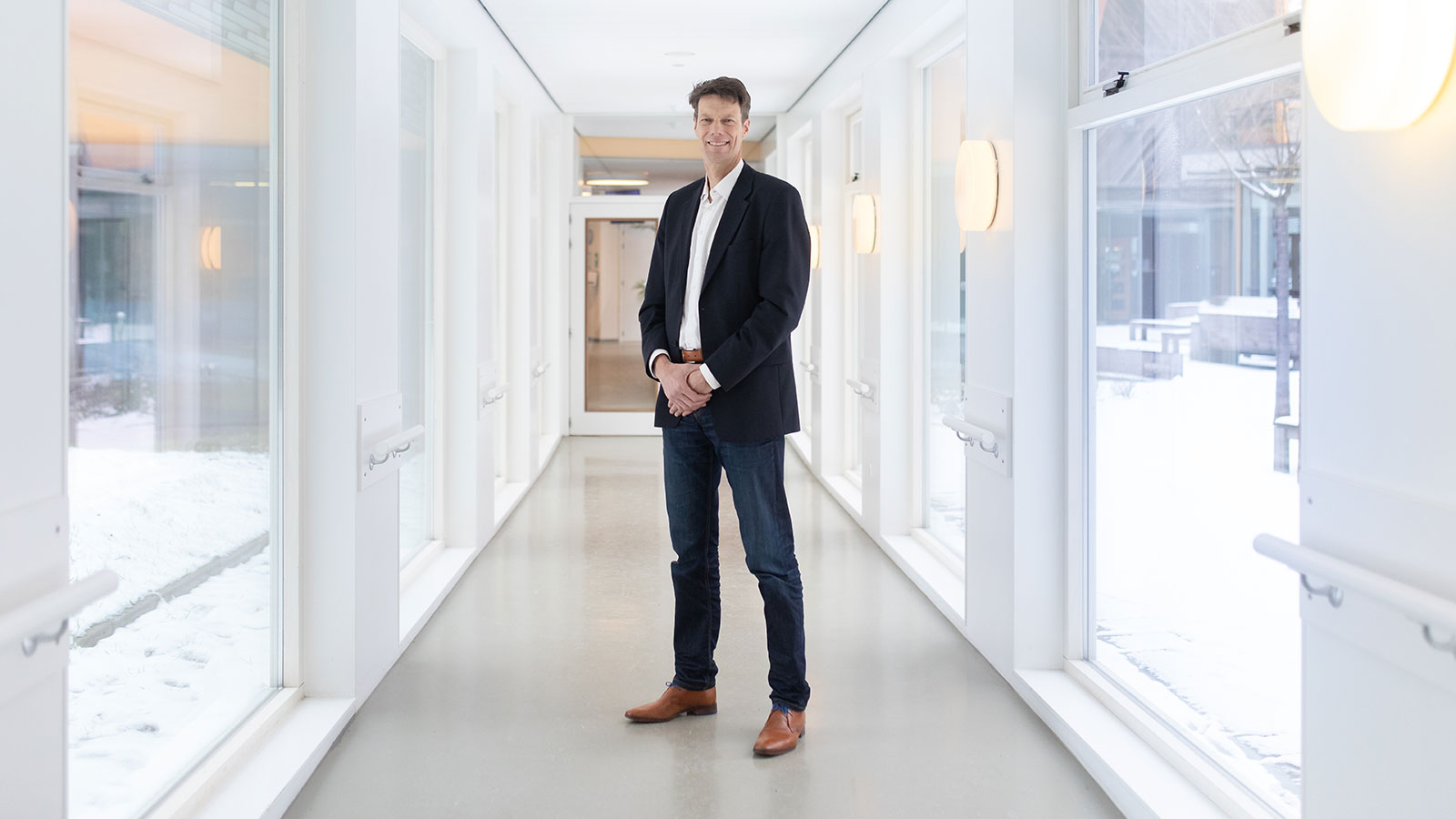 "Most professors and researchers are too busy with their own affairs. So you need some crazy guy who will do this. And that crazy guy is me." Photo: Sven Menschel
About Bram Bregman
Prof. Bram Bregman (1964) is a climate scientist. He spent 10 years as the person responsible for climate coordination at the Royal Netherlands Meteorological Institute (KNMI). He was also the contact point for the Netherlands in the Intergovernmental Panel on Climate Change (IPCC). He became WUR's climate strategist in November 2018. He also has a part-time position teaching Climate Change at Radboud University in Nijmegen.
What does a climate strategist do at WUR?
"We have a lot of strategic knowledge in the Netherlands about the climate and climate change, but the Dutch ministries of the Interior and of Infrastructure & Water Management are not sufficiently aware of this. The people at Infrastructure & Water Management talk to all kinds of scientific organizations, universities and institutes such as the Royal Netherlands Meteorological Institute, but as not yet to Wageningen University & Research. Whereas it's important that we are part of these discussions because we have an awful lot of knowledge to offer. Most professors and researchers are too busy with their own affairs to chase this up. So you need some crazy guy who will do this. And that crazy guy is me."
"I've got a wide network in various departments and know a lot of people there. If you want to have an impact on strategy, you need to speak their language and understand the policy agenda. That is tricky for the average researcher. It is very time-consuming and in these issues, science is often not decisive. It is difficult to accept that being right is not the same as being acknowledged as right."
Different people within WUR sometimes have diametrically opposed opinions about the right solution. How do you turn that into a single message?
"I won't be able to do that because people have their own agendas. And anyway they don't always agree with one another. That's healthy in an academic environment. Even so, you can still discern a WUR message in all those opinions and ideas, one that we can take to The Hague." If you want to have impact, one coherent message is better than many individual.
"What is important to us is that we have a vision for the long term. What does the future look like for the Netherlands and what is WUR's role? It's great that we are studying how to make cultured meat and how to improve the sustainability of our cities, but WUR still needs to work on the bigger picture for the Netherlands."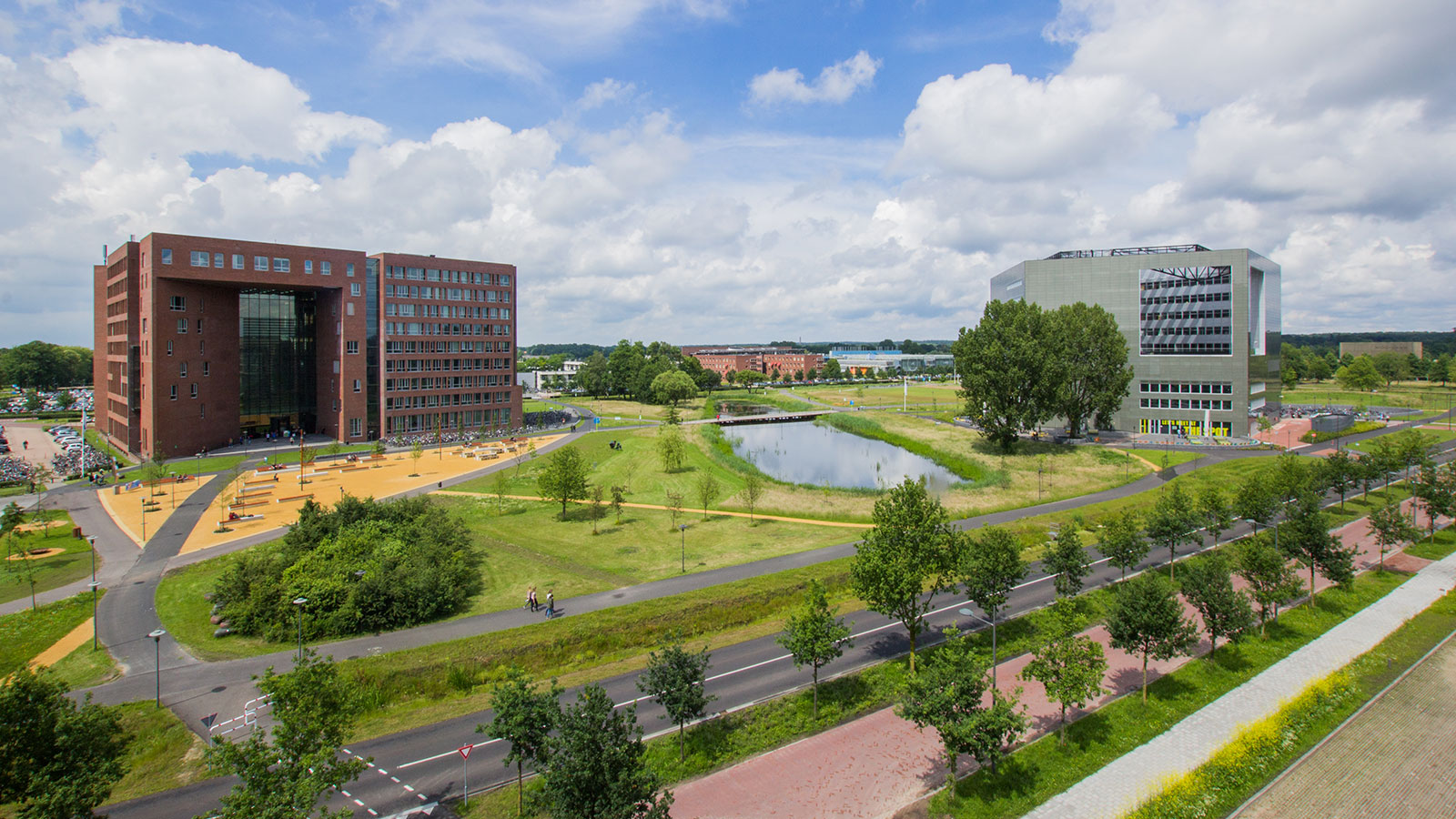 Wageningen University & Research has a lot of strategic knowledge about the climate. Photo: Marte Hofsteenge, WUR
How about you personally? Do you have a picture of the future for the Netherlands?
"In 100 years' time we will start dismantling the Randstad, the conurbation comprising the four biggest Dutch cities in the west of the country, as we will need to move the population gradually to the east. We mustn't wait too long to do this, or otherwise we will be overtaken by events. Our neighbours to the east are happy to cooperate so we need to intensify that collaboration and blur the border. That's already happening in the Cross-Border Collaboration programme (GROS)."
"Another example is a new interpretation of the Green Heart, the peat area in the Randstad. This means a different agricultural function, more room for nature and being thougthful about building houses. We need smarter setups, we need to adapt in order to keep infrastructure, housing and industry affordable in the Netherlands and above all to ensure there is a promising future. So far, it has been about actions based on threats and systemic solutions. Rising sea levels, heat, flooding. So we shouldn't be decreeing 'Thou shalt have more greenery in thy garden'; we should show people that their house will be worth more if it has more appealing surroundings. And show them that employment will increase in certain regions. People are more likely to take action spontaneously if you offer them attractive prospects."
The Green Heart, rural peatlands in the Randstad metropolitan area. Photo: Shutterstock
"I want to investigate how we can get WUR's unique expertise in landscape design, vegetation and agriculture into the vision for the future in the best possible way. We hope to start up a major study, a WUR initiative, through the National Science Agenda programme in which we give the social aspects priority and let the technology follow. That's unusual as we are used to thinking in terms of technical systems."
What will happen if we carry on in the same way?
"The hydraulic engineers say we will cope OK in terms of our water management. But what do you do about salinization and subsidence? We don't have a clear picture of the overall costs of all the impacts. Meanwhile, we continue to build houses and offices in the Randstad. But eventually there will be a price to pay. You want to prevent the Randstad from ending up sooner or later in a situation like we have in Groningen, where natural gas extraction has made the region susceptible to earthquakes and we're suddenly having to move cities or expropriate farmers. We should draw lessons from that situation about how to approach land planning."
"In the end, we'll reach the limits of what we can do and then we'll discover we've built the wrong infrastructure. Deep inside, everyone knows this but it is politically sensitive. You need courage as a politician or administrator to tackle it. A water manager at a water board said to me recently, 'Actually, everyone knows we are doing the wrong thing in focusing on the Randstad, but you can't say that'."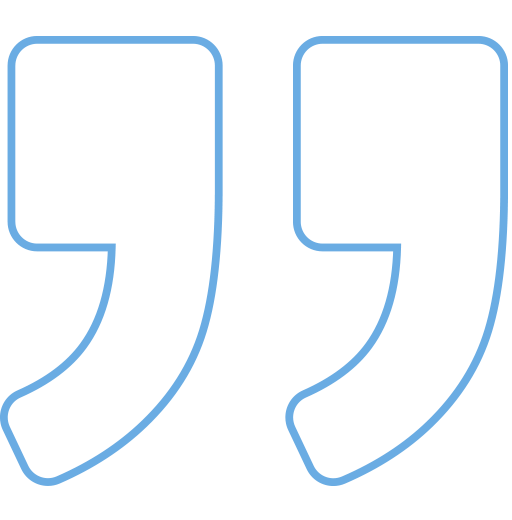 SO FAR, ACTIONS HAVE BEEN DRIVEN BY THREATS: RISING SEA LEVELS, HEAT, FLOODING
Will the political, administrative and commercial activities in The Hague and Amsterdam be relocated to Nijmegen or Eindhoven?
"You may see a shift in the Netherlands' centre of gravity but that will take a couple of generations. You need to think hard, though, about that consolidation in the Randstad that everyone is talking about, with ever more heavy-duty infrastructure over a smaller area in a region that's already suffering from subsidence."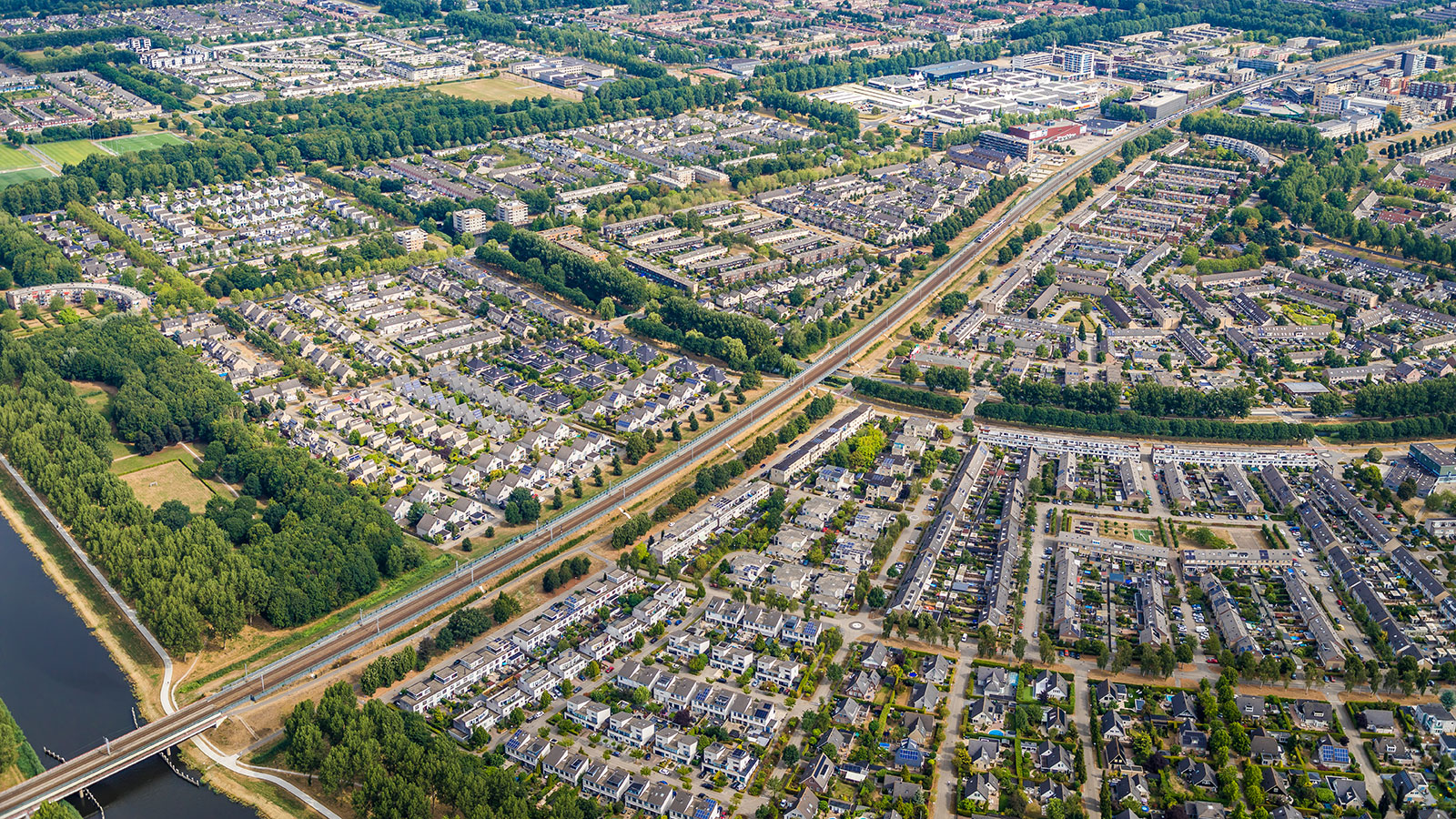 The Randstad metropolitan area is the most densely populated part of the Netherlands. Photo: Shutterstock
"One cannot just move the Randstad, but we can move its economic functions, step by step. The year 2100 — by which time temperatures will have risen by three or four degrees, or even more — will soon be upon us; the generation born now will still be around then. People don't want to talk about a Plan B but if we don't, then a Plan B will be forced on us."
How do you communicate such an unpalatable truth?
"It's tricky at a time when sustainability is framed as expensive. That sounds like a threat, which prompts the people affected to dig their heels in. But if you can outline an attractive future with a bigger role for vegetation and nature, that appeals to people's imagination."
What should be done about agriculture?
"Farming in its current form will disappear from the Randstad. And we may produce differently in future, also for export. There will be a complete revolution in what the Netherlands does in agriculture. But you do need to relieve farmers of their financial worries so as to prevent frustration and dislocation. If you have a young farmer with three children who has taken out a loan, you need to give him financial support and offer him an alternative future, different work or a new location."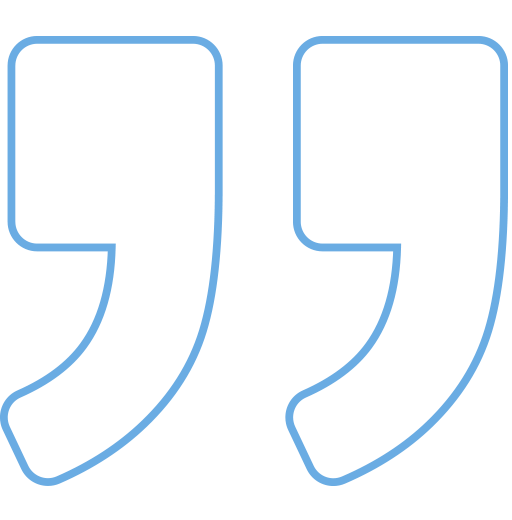 CENTRAL GOVERNMENT NEEDS TO COORDINATE THINGS, USING WAGENINGEN'S EXPERTISE FOR THE GREEN ELEMENT
And the energy transition? Are we throwing away money by making the houses in the Randstad energy-neutral?
"That is a tricky one. If you build houses that could be replaced after 40 years from an economic point of view, then you can justify insulating them and fitting solar panels. But if we look a hundred years further, an energy specialist will say, 'well, by then everything will run on hydrogen and we will also have nuclear energy'. What that teaches us is that we need flexible energy systems. How long will the infrastructure be in place? Wind turbines need to be replaced after 20 to 30 years but cables and pipelines stay in place for much longer. The same applies to railway tracks and road foundations."
An animal wildlife overpass crossing a motorway. Photo: Shutterstock
"Make the system more resilient and with a more diverse energy base. There are many ideas, for example, green canopies over motorways that capture water and sequester CO2 while making the surroundings more pleasant. What is achieveable and what not is the subject of a discussion that you have to have together. Such solutions require a mix of different fields of expertise. We have the people for that. But if you leave everything to the technical people and ignore nature, you end up with unliveable surroundings. To resolve these major issues, we really need central government to be coordinating things. And we need Wageningen's expertise to get that green element included."
Will we make it?
"Sometimes we need a disaster to make us realize that things need to change. Huge subsidence affecting the infrastructure and houses, for example. Dykes that have dried out and collapse, as happened in the west of the country at Wilnis in 2003, or massive damage or failed harvests due to extreme weather. These are no longer examples from a distant future. The compulsory purchase of farmland in the Green Heart is already a concrete proposal. Make sure you do this in combination with mobility, new housing and so forth. There's too little of that at present."
For more information about how WUR explores the impacts of climate change on society and ecosystems, and develops evidence-based, integrated solutions and technology, please visit our website.