Financial products
undermine resilience
farming regions
RESILIENCE
SOCIO-ECOLOGICAL SYSTEM
---
How resilient are farming regions? Why is agricultural policy geared to maintaining the status quo? The SURE-farm project seeks to answer these questions.
"I read recently that in their work, people are resilient as long as they feel there is some point to what they are doing. I wonder whether many farmers still have that feeling these days. They are subject to so much scrutiny, and there is so much criticism," says .
A year ago Meuwissen became the coordinator of an EU-funded that takes the broadest possible view of everything that goes on in the farming regions of Europe. Agricultural regions and their residents are under pressure. Society keeps a sharp eye on the farming sector (think toxic substances or animal welfare), farmers have to abide by a raft of rules, supermarket chains impose low prices and there is a lot of competition from abroad. You'd be crazy to go into farming now.
The EU project SURE-Farm is studying how resilient Europe's farming regions are.
And that is the next problem we shall face. Farmers' children are less and less keen to carry on the farm. So what is going to happen to those regions? If they depopulate, will they become nature areas? Or will they fall prey to the ever-expanding urban sprawl? And what would that mean for European food security?
Resilience is too narrowly defined
Meuwissen has just committed her mission to paper. It was quite a job to fit it onto one sheet of A4. "First we thought about how we could define resilience in the context of farming regions. The concept of resilience comes from ecology and refers to how an ecosystem is capable of returning to its original state after an extreme change, in the weather for example. It turns out that is too narrow a definition for farming regions. Adaptability and flexibility are at least as important, so that a region can reinvent itself if necessary – to become a nature area, for instance."
Farmers' children are less and less keen to take over the farm
Meuwissen and her colleagues are going to study the current degree of resilience of these areas. The research will start with collecting as many facts and figures as possible about the farming regions. Things like how many villages there are that still have at least one school and one supermarket. That statistic is important for the quality of life in a region.
"But then you still don't know anything about the whys and wherefores behind the statistics. That's why we'll also be conducting a lot of interviews: the 'qualitative research'. We'll be asking people about their personal visions and experiences. Mainly talking to the farmers themselves, the key people here, but also to volunteers in the system around the farmers. And the purchasers (supermarket chains), the banks and the insurance companies."
Compensation or adjustment?
Meuwissen cannot show any results yet as the study is still in its early stages. But she has already been struck by the way financial products that purport to guarantee resilience are actually designed to undermine resilience in the long term. "An insurance company pays out for damages due to extreme drought, for example. That means there is no need for the farmer to adjust; he'll get his money anyway. Whereas it might be better to switch to a crop that is more drought-resistant or to see whether you can change the soil."
The SURE-Farm team is setting to work in 11 farming regions, from Romania to Flanders. PHOTO Hollandse Hoogte. ILLUSTRATION: Case studies SURE-Farm
Agricultural policy tends to be geared to maintaining the status quo too. And oddly enough, that directly contradicts the objectives of both national and European governments. "We saw this during the extreme drought we had this year. The long-term goal in certain areas is greening, but that was temporarily suspended. Land earmarked for greening was allowed to be used for solving short-term problems such as a poor harvest or drought. And yet greening is important for disease-resistance and therefore also the resilience of the soil."
'An insurance company pays out for damages caused by extreme drought. That means there is no need for the farmer to adapt; he'll get his money anyway'
Meuwissen's team is going to study 11 farming regions from Romania to Flanders, in Belgium. Here in the Netherlands, arable farming in the former peat colonies of Groningen province has been selected for a case study. What is significant for the resilience of these regions varies from country to country. "A region's goal can be to keep its farmers going, as was the case in a region we are studying in Spain. But that isn't an aim in itself. We aim for an overview of what people want for a region. In the Netherlands that includes nature conservation and an attractive landscape as well."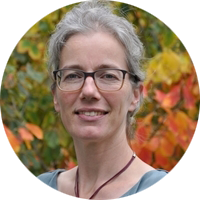 Name
Position
Personal professor and coordinator
of Hor2020 SURE-Farm
Resilience research
EU research on how to increase the
resilience of farming regions
Team
Miranda Meuwissen works on this research with 60 researchers from 16 EU countries
Ten years ago, most farmers didn't want to know anything about organic farming, but its success has been an eye-opener. PHOTO Aleks. K./Shutterstock
About 3.2 percent (Statistics Netherlands, 2017) of Dutch farmland is in the hands of organic and biodynamic farmers. A small but fast-growing percentage. Ten years ago most farmers didn't want to know anything about organic farming, but its success has been an eye-opener. It has shown the farmers that there are other ways of doing things and that adapting to change can be a good idea.
"The soil on organic farms is more resilient and they are usually smaller, so there is less financial pressure. But this is not pleading the case for small-scale farms. We don't want another food crisis like the one we had in World War II. It's fine to have large-scale, modern, digital farmers operating in some regions."
'We don't want another food crisis like we had during World War II. It's fine that large-scale, digital farmers are operating in some regions'
"It all starts with the question of what you want to do with a region. The Dutch answer to that question is different to the Romanian one. If we in the Netherlands set ourselves the goal of making a region green and biodiverse, there's no place for mega-barns but there may be one for small-scale organic farmers."
Although there are big differences between the EU countries, an overarching central project was chosen. "That's the great thing about the Common Agricultural Policy. That there is more and more scope for what matters at the regional level, while we still pool our knowledge."